35.85 DUO PREMIUM remolque portacoches nuevo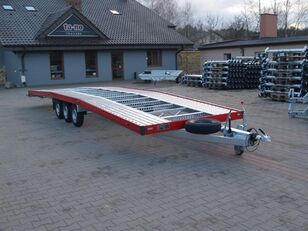 1/15
Tipo
remolque portacoches
Capacidad de carga
2530 kg
Ubicación
Polonia
Modrzyca
Fecha de publicación
más de 1 mes
Carrocería
Dimensiones de la carrocería
longitud - 8.5 m, anchura - 2.1 m
Ejes
Tipo de neumático
165R13C
Comprar mediante "leasing"
Consiga ua oferta de alquiler de vehículo con opción a compra ("leasing")
¿Necesita envío?
Calcule el coste de la entrega
*Delivery*
Directly from the wholesaler
NEW PRODUCTS - Invoice including VAT, intra-community delivery of goods
or export and 12/24 months warranty
Business customers can buy products without VAT
All of our trailers conforms in all respects to the EC CERTIFICATE OF CONFORMITY (COC) and can be permanently registered in Member States having left/right hand traffic and using metric/imperial units for the speedometer.

Contact us phone & Viber & WhatsApp

A trailer with excellent traction properties. Ready for heavy duty in even the most demanding conditions.
Autotransporters is the best choice whenever availability is the key. And if you add our service
This flexible trailer used for vehicle transport will be a delight to even the most demanding users. Its novel, technical solutions are inspired by sublimed needs of the users. Everything is well-thought, harmonious and ergonomic.


STANDARD FEATURES
• Loading dimensions: 850 x 210 cm
• Permissible total weight: 3500 kg
• Payload: 2530 kg
• Empty weight: 970kg
• Very stable, welded, V-drawbar
• All parts of the frame galvanized, corrosion-resistant
• Solid axles with independent suspension
• Coupling head with built-in correct coupling indicator
• The transporting platform is made of aluminium
• Anti-slip surface
• Powder-coated side panels - color to choose (even from RAL pallete)
• Aluminium loading skids (2,5m.)
• Spare wheel
• Jockey wheel 300kg
• LED lights
• Rear rollers
• Plastic fenders
• Tiltable lenght table
• Part lacquered frame



ADDITIONAL PARTS
• Filling out with aluminium plate thickness. 2mm *(+60kg) - 450€ net
• Schock absorbers +(+9kg) - 240€
• Rear supports *(+11kg) - 160€
• Electric winch with steel cable, with werp ower supply, remote controlled*(+40kg) - 800€ net
• Electric winch with sintetic cable, with werp ower supply, remote controlled**(+30kg) - 950 €
• Handy winch AL-KO 901 (*+9kg) - 170 €
• Wheel chocks (1pc) - 55€ net
• Alloy wheels *(+6kg – 6 pcs) - 550 €
• Block tires red crossbar (1pc) - 190 €
• Driving stabilizer AKS *(+2kg) - 320 €
• Couplin DIN fi40 - 120 €
• 4 straps – 36€
• TEMPO 100 - possible


Our company provides you with various trailers and car transporters in other sizes and with other permissible total masses:
800x210cm
900x210cm
This model is also available in different widths: 200cm, 220cm, 230cm, etc.

Contact us phone & Viber & WhatsApp


Working hours:
Monday - Friday 8.00 - 17.00
Saturday 9.00 - 14.00

Terms of delivery:
• Direct delivery to your address
• Depending on the model and country we would like to offer you the delivery price
• The lead time is between 2 and 8 weeks, depending on the availability of the selected model
• While the order is processing - we will inform you about the progress.
• We will contact you 2-3 days before delivery day
• For personal pick-up, we can arrange temporary registration plates
• All documents (invoice, EU Certificate of conformity (COC) are coming with the trailer
• Guarantee 12/24 months

Contact us phone & Viber & WhatsApp

Mazzo Maciej Kubiński is a company with 10 years history, based of our work started
on 2007. The company Mazzo is located at Olsztyńska 46 street in
Gietrzwałd. We have the biggest square with the largest selection of trailers in our
country.
Mazzo is the dealer leader in selling new trailers.
Our company selling trailers from the biggest and from the best trailers manufactures
in Poland.
We are one of the largest sellers in Europe.
Our trailers are sold all over in Europe.

Our company boast over 10 years of experienced in selling, modernizing and servicing
all types of trailers. We cooperate with leading European trailer producers and have in
our offer more than 500 models.
Our trailers have an international Certificate of conformity and all certificates required for
registration in the EU countries. Our team speaks English and German and is looking
forward to hearing from you. For and additional charge we can deliver our trailers
throughout Europe directly to your door.
If you are interested in our products or would you like cooperate with us – please


In our offer there is a large selection of different types of trailers:
• Usual car trailers with steel structures and canopy
• Boat trailers
• Motorcycle and quad trailers
• Car transporters
• Side curtain transporters
• Mini Digger, Plant, Excavator Trailers
• Tilt trailers with hydraulic
• Tipping trailers
• General purpose trailers
• Platforms
• Box (VAN) trailers
• Special trailers
• Horsebox trailers
Mostrar todo el comentario
PLATTFORMANHÄNGER 35.85DUO PREMIUM 850x210cm 3500kg
E-Mail:
mostrar contactos
Handy:
mostrar contactos
– Deutsch, Polski
Handy:
mostrar contactos
– English, Polski
LIEFERUNG innerhalb Deutschlands - nur 150-500 Euro!
Wir liefern unsere Produkte nach ganz Europa!
Direkt vom Großhändler
NEUWARE - inkl. Rechnung mit ausgewiesener MwSt. und 12 / 24 Monate Garantie
Geschäftskunden können Produkte ohne MwSt. bzw. VAT kaufen
Alle unsere Anhänger haben die entsprechende COC-Homologation, die eine Zulassung innerhalb EU-Ländern ermöglicht
Technische Daten:
• Maße: 850x210cm
• Zulässiges Gesamtgewicht: 3500kg
• Nutzlast: 2530kg
• Leergewicht: 970kg
• Sehr stabile und geschweißte V-Deichsel
• Alle Teile des Rahmens verzinkt und korrosionsbeständig
• Vollachsen mit Einzelradaufhängung
• Kupplungskopf mit eingebauter korrekter Kupplungsanzeige
• Die Transportplattform besteht aus Aluminium
• Rutschfeste Oberfläche
• Pulverbeschichtete Seitenwände - Farbe zur Auswahl (auch von RAL-Palette)
• Aluminium-Ladekufen (2,5m)
• Ersatzrad
• Stützrad 300kg
• LED Lichter
• Hintere Rollen
• Kotflügel aus Kunststoff
• Kippbarer Tisch
• Teillackierter Rahmen
Zusatzausstattung (als Option):
• Stoßdämpfer + (+ 9kg) - 250€ netto
• Hintere Stützen * (+ 11kg) - 100€ netto
• Elektrische Winde mit Stahlseil, Stromversorgung und ferngesteuert * (+ 40kg) - 530€ netto
• Elektrische Winde mit Synthetikkabel, Stromversorgung und ferngesteuert ** (+ 30kg) - 650€ netto
• Winde AL-KO 901 (* + 9kg) - 150€ netto
• Unterlegkeile (pro Stück) - 30€ netto
• Leichtmetallfelgen * (+ 6kg - 6 Stück) - 400€ netto
• Blockreifen rote Querstange (pro Stück) - 100€ netto
• Fahrstabilisator AKS * (+ 2kg) - 330€ netto
• 4 Gurte - 36€ netto
TEMPO 100
Möchten Sie Ihren Anhänger für 100km/h zulassen? Kein Problem!
Zusätzlich können wir Ihr Fahrzeug auf eine technische Überprüfung vorbereiten.
Notwendige Dokumente von dem Produzenten für TÜV - fragen Sie uns nach den Details!
Lieferung:
Wir liefen unsere Anhänger direkt an die von Ihnen vorgegebene Adresse bis zur Haustür
Je nach Modell belaufen sich die Lieferkosten auf 150-500 Euro
Die Lieferzeit beträgt zwischen 2 und 8 Wochen nach Bestellung, abhängig von der Verfügbarkeit des ausgewählten Modells
Vor der Lieferung erhalten Sie von uns mindestens 5 Fotos mit dem bestellten Artikel, um die Bestellung zu akzeptieren und Ihre Anmerkungen an uns zu äußern. Ihre Zufriedenheit ist für uns sehr wichtig
Wir werden Sie laufend über den Fortschritt Ihrer Bestellung informieren und 2-3 Tage vor der Lieferung werden wir das Lieferdatum mit Ihnen abstimmen
Alle Unterlagen, die Sie für die Zulassung benötigen (europäische COC-Homologation, die Kaufrechnung, zusätzliche Spezifikationen und Bestätigungen), werden Sie zusammen mit dem gelieferten Anhänger erhalten
Wir liefern unsere Produkte nach ganz Europa. Keine Insel-Lieferung möglich
Für die Kunden, die einen Anhänger selbst abholen möchten, können wir Exportkennzeichen mit der Versicherung vorbereiten
Angebot von:
MAZZO Maciej Kubiński
Olsztyńska 46
11-036 Gietrzwałd
Verkaufstelle MAZZO Modrzyca:
Nowosolska 20
67-106 Modrzyca
Handy:
mostrar contactos
– Deutsch, Polski
Handy:
mostrar contactos
– English, Polski
Wir sind gerne für Sie auch per WhatsApp & Viber erreichbar!
mostrar contactos
mostrar contactos
E-Mail:
mostrar contactos
Öffnungszeiten:
Montag - Freitag 8.00 - 17.00 Uhr
Samstag 9.00 - 14.00 Uhr
Außerhalb der Öffnungszeitenkönnen Sie Ihre Anfragen auch jederzeit per E-Mail an:
mostrar contactos
stellen. Unser Team spricht Deutsch, Englisch und Polnisch.
Unsere Firma hat über 20 Jahre Erfahrung im Vertrieb, Umbau und Service von Anhängern aller Typen. Dank unserer Erfahrung bieten wir Ihnen eine professionelle und hochqualifizierte Beratung an.
In unserem Angebot befindet sich eine große Auswahl unterschiedlicher Typen von Anhängern:
PKW-Anhänger
Fahrzeugtransporter
Maschinentransporter
Motorradanhänger
Bootsanhänger
Hochlader
Kipper
Kofferanhänger
Importante
Esta oferta es de carácter informativo. Para obtener más detalles, póngase en contacto con el vendedor.
Consejos de seguridad
Contactos del vendedor
Polonia, voivodato de Lubusz, 67-106, Modrzyca, Nowosolska 20
Hora local del vendedor: 04:28 (CEST)
¿Vende vehículos o maquinaria?
¡Hagalo con nosotros!